About Us
Are you craving the authentic taste of Thai cuisine? Located at 14 Lackey Street, Summer Hill NSW is the Thai Garn Restaurant – in a prime location for delivery and food collection. We have an extensive menu that features all of Australia's number one Thai specialty dishes. Choose from our delicious Mee Grob, Kuaytiow Neau, Gai Khaa, Pad Ped, Goong Grob, Pad Kratiam, Kari, and Gaeng Gang. Our central location means that we can prepare your delicious Thai cuisine favourites to be ready for collection or to be delivered directly to your door. Do not delay, click ORDER ONLINE now and banish your hunger.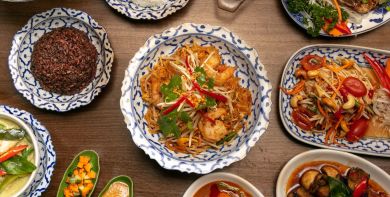 Reviews
Benedict
"One of the best Thai restaurants in the inner west. Top notch food that's super tasty."
Carina
"Excellent food. Fast service. Love my local authenticThai."
Jessica
"Thai Garn is always so quick to order and delicious. The service is great."
We deliver to
2040 Leichhardt, 2045 Haberfield, 2046 Five Dock, 2049 Lewisham, 2049 Petersham, 2130 Summer Hill, 2131 Ashfield, 2132 Croydon, 2133 Croydon Park, 2193 Ashbury, 2193 Canterbury, 2193 Hurlstone Park, 2203 Dulwich Hill, 2204 Marrickville